Ahead of Mental Health Awareness Week (Monday 9 to Sunday 15 May), when the focus is on achieving good mental health and the theme for 2022 is loneliness, we're celebrating the achievements of one firefighter who has set up a walking group for men.
Dean Corney, from Beckenham White Watch, who has struggled with his own mental health in the past, is celebrating eight months since a group of colleagues set up a weekly men's mental health walking group for firefighters, which helps them to talk about whatever may be troubling them.
Following the successful launch, which has seen around 40 new members join the group, Dean is appealing to more men to join in as a way to feel good and combat loneliness.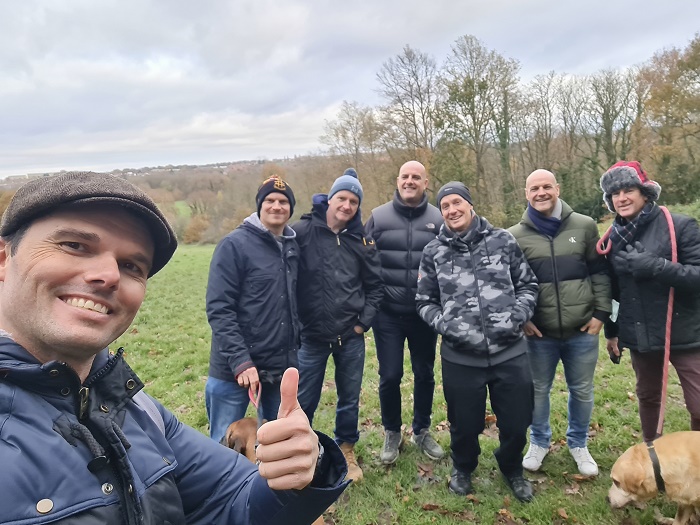 The group meet every week on a Tuesday morning at a park in Beckenham. Each walk is usually around five to ten men.
The scheme has been such a triumph that 'walk and talk' groups have been set up by firefighters elsewhere, including in Richmond Park and Hampstead Heath. In fact, word has spread outside the Brigade and other blue light service staff are also now attending sessions. The success of the walks is not confined to London. A group has recently been set up in Herne Bay and Dean and his team are receiving requests for advice on setting up similar ventures around the UK, including most recently from South Yorkshire Fire and Rescue Service.
Dean explains why he initially set up the 'Walk and Talk 999' groups: "About three years ago a group of us were talking about the male suicide rate and how men in our line of work, and in general, don't talk about their mental health. We talked about why we thought that was, the possible barriers and ways we could encourage conversation to try and help break the stigma.
"I realised, actually, I don't talk about anything. I've had my own struggles with mental health and I'm a big advocate for getting people to talk, but I wasn't doing it myself. I thought, how many more people aren't talking?
"We quickly deduced that there wasn't anywhere for men who work in the same line of work as us to go, even if they wanted to talk, aside from the Brigade's Counselling and Wellbeing service. Not everyone wants or needs that, so we wanted to offer something informal as an early intervention where men can chat to others in the same job in a relaxed setting.
"Some men feel like they are on their own, so just having the opportunity to get out of the house and come see us is a massive boost. We've had walkers on long term sick leave who have gone back to work after attending our walks.
"We are so please with all the support and the amount of people turning up and contacting us as we wanted to get the conversations started around mental health and this shows it is happening which is fantastic."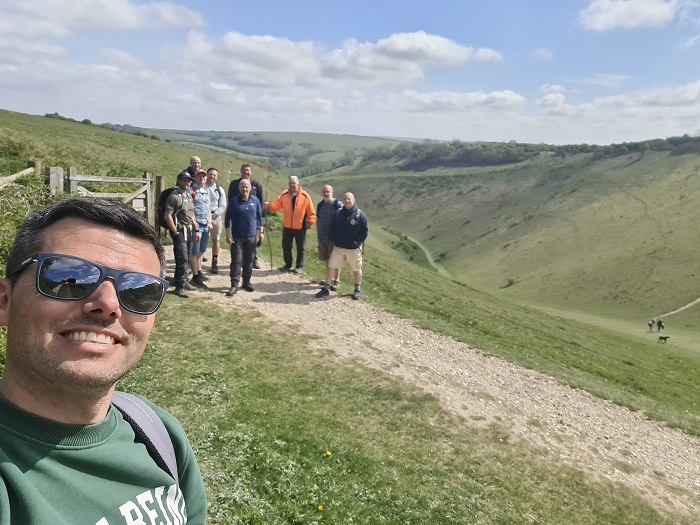 Kate Bonham, Assistant Director for People Services at the Brigade, said: "We offer a counselling service that operates around the clock and any staff member can get in touch with us and talk if they need to. But groups like this, where people can get out in the fresh air and open up among their peers, are invaluable too. Dean and everyone else involved are a real credit and doing a fantastic job of improving the mental health of men in the emergency services and armed forces."
The group was set up by Dean and London Fire Brigade colleagues Sally Brookes, Annabel Green, and Rebecca Dingvean. Mark Smith leads the weekly walk alongside Dean.
The group always welcomes new members. If any men in the emergency services or armed forces wish to find out more, follow the group on Twitter @mwmh999 or Instagram @WalkandTalk999. For those thinking about setting up their own walk and needing guidance, email: [email protected]