FIREFIGHTER STAFFING, FUNDING...SAFETY AND SURVIVAL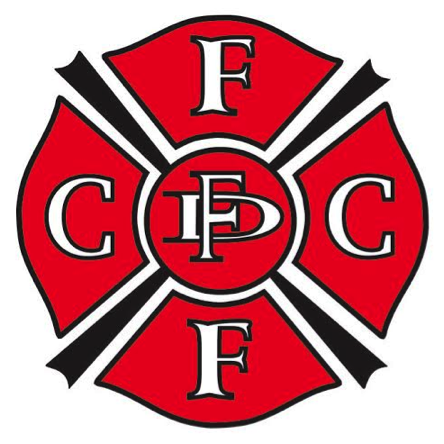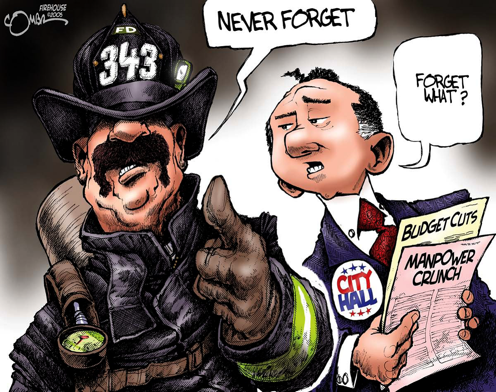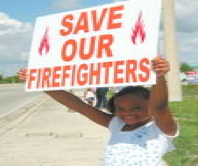 The Financial Crisis of 2008-201?
"STAFFING & RESOURCES: DOING AN ALREADY DIFFICULT JOB WITHOUT THEM?"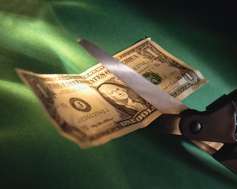 Cuts in the Fire Service
Features
What's Been Happening?
Do's and Don'ts
What the Public, the Politicians, and the Press Are Saying
Definitions
Multi-Year Summary Report
January 2014 Report
Brownout Casualties
They're Watching. . .
Amazing Quotes
Cumulative Report
Our Mission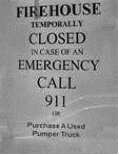 What's Been Happening?
Our last report was in January of 2012. In the interim, the editor has been preparing the resources necessary to assist modern public safety managers with the data, references, statistical, analytical, and consultative services that will assist them in creating agencies that are responsive, adaptive and effective for their communities. Please feel free to reach out to us if we can be of service to you.
As the initial wave of cutbacks and reductions in fire services, and the subsequent lack of substantial consequences was mitigated through reliance on federal SAFER grants, the fire service is seeing the coming year with fewer resources than ever, no increase in budgets, and an uncertainty towards continued support from the SAFER grant program. Doing 'more with less' has been accomplished through the persistence and tenacity that characterizes the fire service, thus emboldening public officials to now ask 'do even more with even less.' The challenges continue.
Interest and discussion in this historic re-sizing of public fire protection services has greatly diminished. TSL reader email contributions all but stopped. (Do you recall sending any updates, lately?) While updating the many changes with departments, we completed yet another project (#3) to summarize the totals of budgetary actions and their impact on personnel and physical resources. These are summarized in the Multi-Year Summary Report below.
The STAFFING PAGE has been updated and loaded with information, statistics, commentary and advice to aid the readers – managers, policy makers, labor leaders, researchers, community leaders, reporters, and all who have a stake in the public safety of their community. Feel free to use this information as a guide for comparison, inspiration, provocation and education. Let us know if we can be of further help.
1 – From the many comments that the budgetary crisis did not begin with the recent economic crash, but in fact, has been draining some fire departments since 2000, we researched the American Fire Services archives and brought out the cuts, closures, and staff reductions for the last ten years. Noted also is the Staffing page has reported only on the departments for which you submitted information. Again, we scoured the archives to include those departments that we had not heard about. The bad news? – It was a huge task. The good news? – We finished three months early. The results? – Considerably more career fire departments are in trouble than initially reported.
2 – Analyze and summarize what has happened due to budget cuts in the past year. It is evident that fire departments are being targeted nationwide. The primary objectives are contracts, salaries, and benefit packages. The secondary losses, coming directly from reduced staffing, are losses of stations and companies. Small and mid-size city fire departments are being hit the hardest. Massachusetts and Michigan lead the losses. A more detailed comparison is being researched. In reviewing hundreds of fire department reduction articles, it is clear that municipal officials, both elected and appointed, are resolved and determined to redefine public funded fire suppression. For the most part, resistance by the fire service community has been ineffective. We offer a few of the most common Do's and Don'ts.
3 – Multi-Year Summary Report
Note the article from the January 2011 issue of "GOVERNING" by Jonathan Walters and read what policy makers are thinking and saying!
Do rotating "Brownouts" serve the public's safety and "share" the risk? Read what's happened in San Diego.
"Despite the cuts, the fire district says service won't be affected," Look at what tax payers, politicians, and the media are saying.
Also, check out the latest "Amazing Quotes" – The things public policy makers are saying to people.
Do's and Don'ts
DO
Document your services to the community.
Document your successful operations and programs.
Document your prevention and education activities.
Document your community presence at every opportunity.
Document the assets, the jobs, and the tax base, that you are preserving.
Talk about company availability.
Treat the public with professionalism, kindness, and courtesy.
When they need you, they are not usually having a good day. Remember, you may have been to dozens of fires, hundreds of wrecks, and thousands of sick calls, but must people are experiencing their first and only one, and it is tragic for them.
Remember that your mostly secure job has been funded by the taxes of others who may have recently lost their own jobs.
DO NOT
Overemphasize response time.
They are not listening. Most people long to live and vacation in settings where response do not matter as much.
Talk about reaching medical calls in three minutes every time.
They know about having to wait for hours in hospital emergency rooms, doctors offices, and clinics.
Brownout stations or companies.
If you don't need them 24/7/365 – you don't need them.
Implement rotational brownouts.
Don't tell them that a company isn't needed, but that by rotating closures; you can't prioritize which ones you don't need. You are actually telling them that you don't need any from the rotation schedule. Russian roulette has 5 blanks and one bullet – you see the bullet, they see the blanks.
Abuse sick time.
The media is watching.
Do anything that you would not do in front of your parents.
Acts of stupidity, recklessness, and criminal arrests make great headlines.
Inflate your run statistics.
Non duty responses will be scrutinized.
Play the "Buildings will burn and people will die" game.
All fires left alone will go out by themselves eventually and the sick will either get better or worse. You know it – they know it. Talk about what you do for them – not what will happen to them.
This report's updates are in three sections. New and updated information is listed first. Consequences of fire department budget cuts are listed next and cumulative information is listed last. It is there so that you can use it for ideas when you are defending your department against cuts. Please take a moment to review and update the fire departments that you know about and send us the information. If you are forwarding a print article, please send the article rather than just the link. [email protected] We are in this together.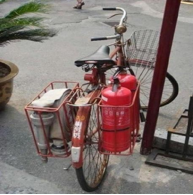 What the Public, the Politicians, and the Press Are Saying
For Valley's Public Employee Unions, Tactics Change with Times
By Joe Schoenmann (contact)
Las Vegas Sun
9/2/2012
These aren't the best of times for organized labor.
All around, public employee unions are coming under fire as groups of privileged workers who earn good wages and benefits while most in the private sector wallow in the doldrums of the Great Recession.
Republican political leaders in Wisconsin, Ohio and other states have actively pushed anti-union legislation. The furor in Wisconsin led to a failed recall-election against anti-union Gov. Scott Walker that may, in turn, embolden further attacks on unions in coming years.
In any case, it certainly hasn't helped a nation where public employee unions have stretched over the decades into almost every line of work supported by taxpayers.
In Southern Nevada, Clark County and Las Vegas, unions represent police, firefighters, transit workers, prosecutors, different types of administrators, nurses, maintenance workers, janitors, security guards and more.
For decades, their benefits rose with the fortunes of a growth economy. Everyone it seemed, even private-sector workers, made good money. Tax revenues were high, so rather than open messy labor battles, politicians mostly gave in and gave public-worker unions what they wanted.
When the economy dropped into the abyss in 2007, tax revenues went with it – but union benefits remained. Five years later, politicians who fought to cut into those benefits are reviled by unions but praised by many taxpayers.
Some unions are still fighting. Las Vegas firefighters have denounced city approval of a fire department study that could lead to cost-savings as unnecessary. In June, North Las Vegas police supervisors sued the city to stop a move to gut parts of its union contract.
Last month, the Sun wrote about firefighters in Las Vegas, North Las Vegas and Clark County endorsing a campaign to slam private ambulance companies, seen by some as an attempt to ensure that firefighter EMT service doesn't fall to the budget blade.
At other times, though, the unions have done what would have been unthinkable three or four years ago: They have issued statements of conciliation; they have given up sacred benefits, such as longevity pay, in light of southern Nevada's unrelenting economic struggle. Gone is the anti-administrative rhetoric from Clark County firefighters; and where the police union threatened political retribution to those who didn't see a contract their way some four years ago, it has worked nearly hand-in-hand with the sheriff to approve contracts quickly.
The myriad smaller unions rise and fall with the fortunes of the Big Three: SEIU, firefighters and police. Here's a primer on how circumstances have changed for the major unions in the past five years.
Service Employees International Union
The SEIU represents healthcare workers, maintenance staff and, in the Regional Transportation Commission of Southern Nevada, civil engineers, public information coordinators, planners, traffic signal workers and others.
In early 2007, little notice was paid to a contract between the SEIU and Clark County that granted a 3 percent raise retroactive to 2006, a 4 percent raise in July 2007 and 3 percent boosts in the next two years. At the same time, thousands of those union members remained eligible for merit-pay increases.
Over four years, the raises cost the county an additional $77 million. At the time, a county spokesman called the raises "fair" because they were less than increases in the consumer price index.
County officials also worried they could lose even more if they took their case to an arbitrator. That's because North Las Vegas had recently granted 4 percent raises in each of four years to its union workers. Arbitrators partially base decisions on wages and benefits in surrounding communities; bigger increases in North Las Vegas result in bigger raises in Clark County.
Zoom ahead five years. The financial landscape changed and so have contract terms and negotiation tactics. County administrators, backed by commissioners who seem to scrutinize every dollar spent, acknowledged in late 2011 that in the previous three years, the SEIU's 5,000 workers had averaged wage increases of 12.6 percent total. (At the same time, county prosecutors had received nearly 15 percent in wage increases.)
In August 2011, county commissioners approved a binding agreement forcing some 3,000 University Medical Center workers to pay back an average of $280 each, part of a deal to cut their pay by 2 percent.
Both moves sent a strong signal that county administrators had the support of elected county commissioners.
A few months later, the county and SEIU agreed to a two-year contract that froze longevity pay for a year, erased merit increases for two years and eliminated cost-of-living raises for the same two years. The deal with some 5,000 employees saved the county $20.4 million over two years.
A few weeks ago, SEIU and Regional Transportation Commission negotiators came back with what they believed would be a contract accepted by the commission's board. Except the board didn't like it. While other unions had eliminated longevity pay for new hires, this contract proposal kept longevity pay, albeit at a lower rate. And while it tied various pay raises to the consumer price index – which hadn't been done in previous contracts – transportation commissioners said no and told them to come back with something more austere.
Nick DiArchangel, SEIU spokesman, sees the shift in politics as an opportunity for the unions to become more creative and cohesive.
"You're going to start seeing public employee unions say 'we have solutions, we have ideas,' which are not 'don't take from us, don't take,' but are paths upon which to build stronger service," he said. "I think in places where you see things being taken away, the unions haven't stepped up and said we have a solution."
What DiArchangel doesn't see is the demise of unions, which appears to be the wish of various policymakers around the country.
"People with regressive politics have done a great job of tying the economic collapse to public employees and saying that reducing services is the solution," he added. "This ignores the facts of who created the economic crisis and the housing collapse."
He doesn't think a majority of the public feels that way, though.
"I don't see a public backlash against public employees, and that might be because they make up such a huge portion of our economy," DiArchangel said, noting his wife is a special-education teacher. "We're so connected to the fabric of the community. You can't say 'that public employee', because that very same person is in your house or your neighbor."
Police
Of all the union/administration relationships, perhaps none has appeared as easygoing as the one between the union representing Metro Police officers and the sheriff. As Sheriff Doug Gillespie reported, for 25 years until 2010, Metro's budget increased 10 percent each year.
A sizable portion of those increases resulted in higher wages and benefits for officers.
But cracks began to appear in 2005, when the union and the staff of former Sheriff Bill Young presented a four-year contract that increased wages and benefits 25.6 percent, or more than 6 percent each year. The contract, however, failed to gain enough votes of Metro's Fiscal Affairs Committee.
At the time, County Commissioner Tom Collins served as one of two commissioners on the committee. Fearing he would vote in favor of the fat contract, Collins' fellow commissioners voted 6-1 to remove him from the committee. His replacement, Rory Reid, voted "no" to help defeat the contract. An arbitrator later approved a contract granting wages and benefits totaling 22 percent over four years.
By the time new contract talks came around in 2010, the economy was in full slump.
The union quickly agreed to no cost-of-living increases, though the contract kept intact 4 percent step increases for an officer's first 10 years and longevity pay that starts at 5 percent and maxes out at 15 percent. Las Vegas and Clark County, which co-fund a majority of Metro's budget, also agreed to fund all of the state-mandated increases in pension contributions.
Two years later, even relatively tiny wage increases are being rejected. In May, Fiscal Affairs rejected the sheriff's recommendation for a two-year contract, beginning July 1, 2013, that would give police 3 percent merit increases in year one and 1 percent in year two. When that didn't fly, he offered 1 percent and 1 percent.
That didn't fly, either, and negotiations continue.
Chris Collins doesn't sound worried. The executive director of the Police Protective Association is looking at his union numbers and membership is up by a few percentage points.
He thinks membership numbers are doing well because of two factors; the economy and "the department's more aggressive stance in discipline and terminations."
At the same time, they union has avoided making itself a target in the public's eyes.
"I'm not going to say we've fared well (with contracts) but we've done as well as anybody in the country as far as what we've given back," Collins said. "We've come to terms with the city and county for three years in a row and have avoided arbitration and the big public battles."
He added that "image is important. The police department needs the public trust."
When the economy bottomed out, Collins said, unions were caught somewhat off guard by the political attacks against their members. "Public unions did not get out and counter those claims very well, with proof and documentation to say, look, that's simply not true."
A new coordinated effort among police associations across the country to disseminate more information about public union costs and benefits, he hopes, will change perceptions.
"As we provide more facts and willingly enter debate, the sentiment will change," Collins said. "But it's going to take some doing."
Fire
No public unions in Southern Nevada have been more beloved for so many years past, yet so reviled in recent times, than those representing firefighters.
Here's how the leader of another public union, who did not want to be identified, put it: "They lived large for what, 100 years? They've always been the most popular. Always been the good guys. Not anymore."
Only 10 years ago, for example, it was practically sacrilege – or at the least, political death – to square off against a firefighter union. Former County Commissioner Erin Kenny is said to have won her election to office in 1994 and 1998 as a result of her support from firefighters, who campaigned for her door to door.
That kind of power politicians ignore at their own peril.
It's the kind of power that resulted in firefighter union contracts like no other in the breadth and scope of benefits earned. In the view of some elected leaders, it also created a backdrop that allowed more freedom for firefighters to wrack up large overtime benefits by, as Commissioner Steve Sisolak puts it, "gaming the sick-leave system."
And then the economy tumbled.
In the past three years, local politicians have pummeled firefighter unions like no other. They made a big target. Firefighters' benefits and wages are better than everyone else's, so government bodies looked to those areas for savings.
When the unions fought back without volunteering concessions – their argument was sound from one standpoint: those lucrative contracts were signed by elected leaders – it made headlines.
The change started three years ago. If Erin Kenny was the Clark County Commission poster child for union love, Sisolak is the guy whose poster graces dartboards in county fire stations.
Sisolak took office in 2008, right around the time the economy tanked. Almost immediately, he began criticizing the wages and benefits of firefighters. Two years ago, for instance, the average county firefighter collected wages and benefits totaling $189,000, much of it coming from overtime.
The county firefighter union fought back hard. Members once showed up at one of Sisolak's informational meetings at Lake Las Vegas, their arms folded as they stood in the back of a meeting room, to stare and try to intimidate him. Sisolak started scrutinizing sick-leave usage, which results in overtime pay and pension contributions for firefighters called to replace a sick co-worker.
The union, meanwhile, fought to maintain hard-won wages and benefits, leading to a contract stalemate. An arbitrator heard the case and sided with the county, adding it did appear some firefighters were gaming the sick-leave system.
Months later, the county fired two firefighters for sick-leave use; both won their jobs back. Meanwhile, the FBI is continuing an investigation into the sick-leave issue.
Remarkably, the county and firefighter union are trying to make nice.
Negotiators for both sides wrapped up two contracts within months of each other earlier this year, saving the county millions; sick-leave and its resulting overtime have fallen dramatically; and in July, Sisolak wrote a lengthy letter to the editor proclaiming "there are many hard-working, honest firefighters who deserve our respect and gratitude."
Too good to be true? To be sure, there is a bottom-line rationale behind the niceties. In two years, Clark County voters will be given the chance to vote on a special property tax that benefits the Fire Department. Should voters turn down the proposal, the county will have to make up an estimated $15 million that currently contributes to wages, operational costs and capital projects.
Many could lose their jobs. Will they be firefighters or other county employees? Many could lose their jobs. Will they be firefighters or other county employees?
* * *
Sisolak says he doesn't want, nor does he see the day when public employee unions disappear. But echoing the sentiments of people those on both sides of the fence over the last four to five years, he said the days of fat contracts with no questions asked are gone.
"I think there will always be more scrutiny from here on in," Sisolak said, adding that even if the economy improves, the memory of this economic downturn will stick in people's minds for decades to come.
"In this case, I don't think people's memories are going to be short," he added. "No one wants to go through these kind of gut-wrenching decisions again in the future."
Grand Jury Looks at Fire Agencies
San Bernardino County Sun
11/13/2013
The 2010-11 Santa Clara County Grand Jury looked at the nine fire agencies in that northern California county and found that only 4 percent of the calls for service were to fires, with 70 percent being for medical service and the rest situations including rescues and hazardous materials.
"Fire departments should rethink their response protocols -- which are based on an historically fire-oriented model that does not match today's overwhelmingly medical-based demand for emergency services," the report says. "Given that approximately 70% of calls to fire departments are reporting medical emergencies rather than fire, and that only one of every three crew members (33%) is trained to respond to medical situations and conditions, there appears to be a mismatch between service needed and service provided."
A paramedic typically makes significantly less than a firefighter or firefighter/paramedic, while a fire engine costs five times what an ambulance does, causing unnecessary wear and tear on expensive vehicles, according to the report.
The report also suggests consolidating services from neighboring departments and reorganizing staffing so that seasons or times of day that are known to have a lower number of calls have fewer firefighters.
"In their responses to Grand Jury questions regarding firefighter staffing and salary levels, some interviewees described firefighting as 'the best part-time job in America,' conceding these well-rewarded firefighters wear 'golden handcuffs,'" the report says. "Others acknowledged that firefighters are paid for '23 hours of sitting around for one hour of work' because that is how 'insurance' works."
Firefighters unions in Santa Clara County criticized the report, saying firefighters can respond more quickly, and no major suggestions from the report were implemented.
Private For Profit Firefighting Services
The Private For Profit Firefighting Services industry has recorded impressive growth over the past decade, with revenue posting double-digit gains. Industry growth is largely attributable to a rising trend toward privatization, driven by cutbacks in state and local funding for public sector fire departments. Consequently, governments are increasingly contracting with private sector fire departments, which can be hired on an as-needed basis.
For instance, from 2009 to 2011, the number of public sector firefighters decreased an average 0.6% per year, while the number of private firefighters grew an average 16.9% per year, according to data sourced from the Bureau of Labor Statistics. "Furthermore," says IBISWorld industry analyst Caitlin Moldvay, "insurance companies are increasingly employing private firefighters to pre-treat insured properties and aid in fire suppression efforts to limit potential property damage in the event of a wildfire." These factors have led to an expansion of private sector firefighting services. Over the five years to 2012, industry revenue is estimated to rise at an average annual rate of 12.5% to $2.1 billion, including projected growth of 9.7% during 2012.
The Private Firefighting Services industry includes privately-operated companies that charge a subscription fee to homeowners and business owners to provide fire prevention and suppression services. "Most often, subscription services are provided to small towns or unincorporated areas without a publicly funded fire department," adds Moldvay. In addition, companies provide fire protection services to airports and industrial facilities on a contract basis or are employed by insurance companies or government agencies. Over the past five years, the number of private sector firefighters has grown at an average annual rate of 15.0% to an estimated 16,880 employees. The industry exhibits a low level of market share concentration; industry firms are small because there are no economies of scale to be gained through expansion. Additionally, concentration has fallen over the past five years, primarily due to industry expansion.
The Private Firefighting Services industry is expected to continue expanding, with industry revenue projected to rise through 2017. Continued state and local budget shortfalls are anticipated to lead to greater outsourcing to the private sector. Moreover, insurance companies offering private firefighting services to homeowners in the West and Southwest regions will be a continued source of growth for the industry over the coming five years. For more information, visit IBISWorld's Private Firefighting Services in the US industry report page.
Public Safety Compensation
By Steven C. Johnson and Chris Francescani
NEW YORK (Reuters) - Pharmacist Michael Nastro is full of admiration for how police responded to a deadly robbery in his suburban New York neighborhood in 2011.
A gunman walked into a pharmacy near his own on Long Island, killed four people and fled with a stash of painkillers. Police in the area, which is part of wealthy Suffolk County, best known for the exclusive Hamptons beach towns, boosted patrols and gave advice on what to do if the robber hit again. They caught him three days after the shooting.
But Nastro, 50, admits he's torn about police officers' pay and retirement benefits. "I'd be lying to you if I said I wasn't conflicted," he said. "I want good police work, but I'm a taxpayer too. There's got to be a middle ground."
The average annual pension for Suffolk County cops who have retired since 2007 was $86,702, according to figures from the Manhattan Institute, a public policy think tank, against $37,270 for other county employees, excluding teachers. The county, facing a three-year deficit of $530 million, declared a fiscal emergency in March.
Traditionally, U.S. voters have backed generous pay and benefits for the cops and firefighters willing to risk their lives to keep citizens safe. That was especially so after the deaths of many emergency workers in the September 11, 2001, attack on the World Trade Center in New York.
But as economic conditions have worsened and many local governments have run into severe fiscal problems, that attitude has started to change. Since the 2007 recession, some cities have tried to roll back pension benefits and pay, among the most rigid and, in some cases, highest expenses in municipal budgets.
From New York to California and points in between, cops and firefighters have been drawn into pitched battles over their pay and benefits.
In San Diego and San Jose, California's second and third biggest cities, voters in June overwhelmingly backed sweeping pension reforms. In San Jose, all employees will have to choose between reduced benefits or higher retirement contributions.
In the mid-sized California cities of Stockton and San Bernardino, officials say public safety costs were among the factors that forced both to declare bankruptcy. In Vallejo, a former U.S. Navy town near San Francisco that emerged from a three-year bankruptcy last year, public safety pay and benefits were consuming three-quarters of the city's general fund.
Detroit, plagued with one of the highest crime rates in the country, nonetheless cut pay and healthcare benefits for city workers, including police, by 10 percent just over a week ago, a move the mayor says will save the cash-strapped city $102 million a year.
A legal challenge by the Detroit Police Officers Association failed, even as union President Joe Duncan publicly complained of what the cuts would mean for Detroit's ability to hire police, noting that the city is "already 50th on the list of pay for the biggest 50 cities in the United States."
St. Louis this month approved an overhaul of the firefighter retirement system that rolls back decades of increases, while Miami officials trying to plug a $60 million budget gap this week declared "financial urgency," which will let them alter employee contracts. Among the city's proposals: limit overtime for firefighters and require higher health care contributions.
According to an analysis by New York-area newspaper Newsday published last month, police and sheriff's department employees in Nassau and Suffolk counties reached nearly two-thirds of each county's payroll.
"That is why a lot of municipalities are choosing bankruptcy, because it's the only way - other than getting a state control board - of getting out of these salary and pension requirements,'' said the former top official of Suffolk County, Steve Levy.
SAVINGS AND SAFETY
Striking the right balance between savings and safety is a touchy business, though.
While it's become almost routine for voters to rail against fat paychecks and generous benefits for teachers, transit workers and other public employees, cops and firefighters have in the past been largely spared such anger.
For example, in Wisconsin, where most public workers were stripped of their collective bargaining rights and made to pay more to fund their pensions, firefighters, cops and other public safety workers were given an exemption.
Still, Jim Carver, president of the Nassau County Police Benevolent Association, says politicians have started to target cops and firefighters. The state seized control of Nassau County's finances after the county failed to balance its budget and had its credit rating cut last year.
Carver bristles at the notion that police and firefighters don't deserve what they earn.
"After 9/11, you couldn't find a politician that wasn't rushing to put his arms around a cop or a firefighter," he said. "Ten, 12 years later, we are to blame for everything. Politicians have made us the enemy. We didn't put a gun to anybody's head. These were fairly negotiated contracts."
"EVERYBODY'S COMPLICIT"
To be sure, it took decades of bad decisions and poor management by local authorities to put many communities in fiscal dire straits. In countless cases, cities, counties and states over-promised benefits to retirees but neglected to set aside sufficient reserves to cover their liabilities.
When the economy and stock market were booming, cities often sweetened pension benefits, confident the money would be there in the end. After 9/11, the cops and firefighters' heroic status with the public meant that they were in a particularly strong bargaining position.
But the 2007-2008 recession and the impact of the housing bust on real estate taxes hammered municipal revenues and badly hurt pension funds' investment returns.
The Pew Center on the States said the gap between states' pension promises and liabilities was $757 billion in 2010.
"Everybody's complicit in this,'' said Lawrence Levy, executive dean of the National Center on Suburban Studies at Hofstra University.
Noel DiGerolamo, head of the Patrolmen's Benevolent Association in Suffolk County, has harsh words for the public officials, saying they should be bearing the blame for fiscal woes.
"Rather than being responsible leaders of government and saying, 'We have these pension obligations that we're going to have to pay,' and saving towards those obligations, they are being politicians," DiGerolamo said. "And when the bill comes due, blaming employees who have worked towards and earned these pensions for 20 or 25 years."
BROKE IN CALIFORNIA
Of course, scores of municipalities are managing to balance their budgets even as costs rise. Only a few of the 90,000 issuers in the municipal debt market are in true distress.
Even many with escalating pension costs can meet their current obligations. It's keeping up with promises to aging citizens who are living longer that keeps officials up at night.
In some cases, contracts that may once have seemed fair are helping to bankrupt cities and leading to severe cuts in services, including fire station closures and reductions in police forces. Eight municipalities have sought protection from their creditors so far this year, following 13 that filed in 2011, and many others are having to slash their budgets.
San Bernardino, a city of 210,000 some 65 miles east of Los Angeles that has been hit hard by the collapse of the housing market, says public safety spending eats up 73 percent of its general fund budget, with overtime for firefighters especially onerous. Pension costs are expected to reach $25 million this year, double the 2006 level.
The city imposed a temporary 10 percent pay cut, but the firefighters' union successfully challenged it in court and is entitled to back pay. The city council voted last week to suspend debt payments and quit paying into a retiree health fund.
Some 350 miles to the north, Stockton, the biggest U.S. city ever to file for bankruptcy, allows police officers to retire at 50 with pensions based on 3 percent of final pay for each year in service.
When he signed the bankruptcy filing in June, Stockton city manager Bob Deis said a 1996 decision to provide firefighters with free health care in retirement, later expanded to all city employees, was a "Ponzi scheme" that saddled the city with a $417 million liability.
Because their jobs are dangerous and physically taxing, cops and firefighters typically retire after 20 or 30 years on the job, and that's as it should be, said Michael Coleman, a policy adviser for the League of California Cities, an association of municipal officials from the state.
But that's why it's important to keep pensions reasonable.
"I don't think anyone disagrees that these are dangerous jobs. But how much is enough? Unfortunately, I think it's gone too far," Coleman said.
The contrast between benefits in the public and private sectors is stark.
Only 26 percent of U.S. companies offer retiree healthcare benefits, compared with 66 percent that did so in 1988, according to the Kaiser Family Foundation.
Most private sector employees bear the brunt of providing for their retirement by saving money in funds known as 401(k) plans, with companies typically also making contributions. After the 2007 recession, some firms stopped making contributions altogether.
It can all add to tensions as some taxpayers question why their services are being cut or property taxes raised so a city or county can find the money for generous retirement benefits.
In New York, a 2010 investigation by then-attorney general Andrew Cuomo, now governor, found widespread incidence of "pension padding" - public employees working extra overtime in their last year on the job to boost pay and retirement income.
That's especially costly when it comes to well-paid public safety workers. The Manhattan Institute estimates nearly 10 percent of New York State cops and firefighters who retired in 2011 will receive six-figure pensions, from 2 percent in 2001.
NO QUICK FIXES
Quick fixes, however, are unlikely.
Efforts to revamp public pension plans face stiff legal challenges. Each state has its own constitution, courts and case law that affect how it can go about changing retirement systems.
Firefighters in San Bernardino have filed seven legal actions against attempts to scale back pay and benefits since 2007.
In many municipalities, public salaries and pensions are pegged to those offered in comparably sized regional cities. In New York, pensions, once set by the state, cannot be negotiated through collective bargaining.
At the same time, alternative ways to tackle deficits, such as raising taxes, are politically unpopular.
In the small Southern California city of Stanton, voters recently rejected a proposed utility tax hike that would have raised $1.1 million. The city instead cut back on active police and fire staff, which account for 77 percent of its spending.
"Will there be some impact on response time? There could be," said city manager Carol Jacobs. "But this city is not going to go bankrupt."
In some cases, unions have preferred layoffs to reduced retirement benefits. Two troubled cities in New Jersey are cases in point. Camden, one of the state's poorest and most crime-plagued cities, recently cut its police force by about half, and Newark cut its force by a third after unions declined concessions demanded by their city governments.
In New York, former Nassau County Executive Thomas Suozzi, a Long Island Democrat who has clashed with police unions, gave a stark assessment. "We're facing a problem that will be faced by every town in America.
"You can't raise property taxes anymore - people won't go for it. There's no more money. So, do you cut services, which will result in the death of the suburbs, I think, or do you make these salaries and pensions more rational than they've been?"
(Additional reporting by Hilary Russ in New York, Ronald Grover and Tori Richards in Los Angeles, and Jim Christie in San Francisco; Editing by Martin Howell and Leslie Adler)
---
Making Smart Choices in Bad Economies
Times are tough. What's a public system to do?
As public budgets continue to shrink, how can EMS leaders make smart but tough choices that keep their doors open and let them keep serving the public? A report by well-known consultants Fitch & Associates, Making Smart Choices About Fire and Emergency Medical Services in a Difficult Economy, looks at problems being faced by emergency services managers and presents a variety of solutions that are working for some.
In many communities, public safety funding makes up as much as two-thirds of the municipal budget. In today's economy, where real estate values have dropped significantly, budgets that rely on property taxes have been impacted dramatically. When community leaders slash budgets in response, emergency managers are left to determine how to save money without costing lives.
According to the authors of the report—Fitch's Joseph J. "Jay" Fitch, PhD, and Michael Ragone and the RedFlash Group's Keith Griffiths, who produced it for the International City/County Management Association (ICMA)—this financial squeeze will not end any time soon. They cite U.S. Fire Administration officials who say that even once the economy rebounds, it will take 1–3 years for municipalities to see increased revenues. Fire-rescue agencies can expect a 3–5-year wait before seeing their budgets increase.
A public agency's sheer size and exposure in the public eye make it an easy target for cuts. One easy and often-used technique is across-the-board cuts that affect every municipal department. The intent is to "share the pain" by treating everyone the same. But not every unit of government has the same mandates and measures to define success. This means across-the-board cuts are liable to have unintended consequences because the budget "fix" has not been thoroughly thought through. A more accurate process is to have serious policy discussions that take into account what the community really values, then prepare budgets accordingly.
Personnel costs are often a high percentage of agencies' budgets, as well as municipalities' overall expenses. An example in the report cites that public pensions represent 20% of Los Angeles' budget costs. One way cities are lowering these costs is by moving from defined benefit plans to more 401(k)-style defined contributions plans. Another money-saving technique is a tiered system where new hires earn fewer benefits initially, but their benefits increase with tenure.
Attempts to maximize payroll dollars include the ongoing debate over whether it is cheaper to pay overtime and work existing employees more hours, or hire additional responders to save overtime costs. According to the report, the general rule says that if it costs more than 50% of pay to hire and provide benefits to new employees, then it is cheaper to pay overtime to current staff. However, strongly held beliefs and traditions also come into play when trying to decide how to proceed, which makes the overtime-vs.-new-hire decision process unique to each agency considering it.
Some agencies explore using alternative service delivery methods to achieve more (or at least maintain) with less money. But Fitch cautions EMS managers to keep the medicine in mind when looking into solutions that affect response capabilities. "Decisions on how to respond need to be based on sound medical evidence," Fitch says. He notes that response time targets need to reflect how they affect outcomes, not necessarily just some arbitrary performance standard.
The report's authors cite two different concepts that are finding success. In suburban Portland, OR, Tualatin Valley Fire & Rescue runs ALS-equipped and -staffed engines and uses a private third party for transports. The department deploys peak-demand engine companies or rescue response vehicles to answer calls and maintain response times during busy periods.
The San Jose, CA, Fire Department has devised a resource management strategy called dynamic deployment to minimize the impacts on service of shutting down fire companies. They faced some upfront costs for software, communications personnel and ongoing data gathering and analysis, but officials expect to reduce service-level impacts to the most critical calls.
Several other communities are using different means of triaging calls at their dispatch centers and offering callers alternatives such as nurse-assist lines or appointments with and transportation to clinics. Costs are lowered, risk is reduced from fewer emergency runs, and resources remain in service for true emergencies.
The report offers good advice on patient transports for EMS managers trying to decide if ending transports by contracting with third parties would be better. Fitch says this process can be complicated because most requests for proposals only ask applicants what they can do. This makes it hard to evaluate competitors. According to Fitch, a more objective procurement process will clarify the agency's service expectations and ask applicants how they can meet them. RFPs written in this fashion will result in responses that can be objectively compared based on how well applicants meet the designated standards.
Fitch says the bottom line to any decisions that affect response-to-service requests is unique to every agency. "Whatever is decided has to work for that agency based on its mission, staffing, attitudes and local needs," he says.
---
An ISO Rating Process Primer
Grand Rapids Press
"Insurers alone decide on what rates they will charge and what insurance markets to do business in," said ISO spokeswoman Jessica Riccardi in an e-mail. "As such, ISO cannot speculate on how a fire classification change will affect local property insurance premiums."
If a fire breaks out in your home or apartment, how soon will firefighters arrive? How quickly can they put out the blaze?
The answer depends on where you live, the time of the day and if there's a fire hydrant nearby.
Most homeowners don't think about it much. But the insurance companies have a pretty good idea.
How they calculate the risks depend on the insurance company and their assessment of your community's fire protection.
Many insurers rely on the Insurance Service Office (ISO) "Fire Suppression Rating Schedule" that rates protection in each community.
It's produced by ISO, a private company that sells the information to the insurance industry.
Based on a 1-10 scale, ratings are assigned to each community on the basis of three community factors. More about that later.
The city of Grand Rapids carries West Michigan's highest and best ISO rating at 3, thanks to its full-time staffing in all 11 stations scattered strategically throughout the city.
Other cities with full-time departments such as Holland and Kentwood carry a 4 rating. Communities with a blend of full-time and "paid-on-call" firefighters typically are given ratings from 5 to 7.
Areas with no access to fire hydrants and reliance on all "paid-on-call" staff tend to be assigned a 9.
The panhandle region of Wyoming has been assigned a 10 ever since the city closed the fire station serving that area in 2004.
Although the city has arranged for "automatic aid" to the panhandle from Grandville fire department, the 10 rating still reflects the neighborhood's distance from the nearest Wyoming fire station.
ISO bases its ratings on periodic visits to fire departments, where evaluators assess manpower, level of training, equipment, availability of water and dispatching capabilities.
Fifty percent of the rating is based on the department itself, 40 percent is based on the availability of water and 10 percent is based on a community's dispatching service, according to ISO.
There are no statewide standards for the level of fire protection in a community, State Fire Marshal Ronald Farr said.
"It's a local decision," said Farr, a former Kalamazoo Township fire chief who took the job two years ago. "They have to do a risk assessment for their community and determine the type of protection they want to provide."
For some sparsely populated communities, the high cost of protection out-weighs the risk.
Advocates of improved protection argue that a lower rating means lower homeowner's insurance premiums that offset the higher tax rates that property owners pay to achieve the higher ratings.
ISO officials avoid the argument and declined to comment for this article. "Insurers alone decide on what rates they will charge and what insurance markets to do business in," said ISO spokeswoman Jessica Riccardi in an e-mail. "As such, ISO cannot speculate on how a fire classification change will affect local property insurance premiums."
But on its website, ISO argues the classifications do make a difference.
"On average, per $1,000 of insured property, communities in the worst classification had homeowner fire losses more than twice as high as communities in the best classification," the website said.
"On average, across the country, the cost of fire losses for homeowners policies in communities graded Class 9 is 65 percent higher than in communities graded Class 5."
The difference is greater when commercial property is considered, according to the website. Communities in the worst category had fire losses more than three times as high as communities in the best categories.
Some large insurance companies, such as State Farm and Auto-Owners, say they base premiums on their own calculations.
"We use our own database of claims experience as a substitute for ISO" said State Farm spokeswoman Angie Rinock. "Because we're the largest homeowners insurance company in the nation, we have big enough database to be able to do that."
Andy Flanagan, a spokesman for Auto-Owners, downplayed ISO in his company's rate-setting policies.
"The exposure to loss from other insured perils may also change (a premium), both up and down, based on a company's loss experience," Flanagan said in an e-mail.
A survey of homeowner insurance rates by the Michigan Office of Financial and Insurance Regulation also raised questions about the role ISO ratings play in setting insurance premiums.
For example, the survey indicated many insurers charged identical rates for homes in Clare, rated a 7, as 3-rated Grand Rapids.
On the other hand, Flint and Lansing, both rated 3, saw several insurers charge higher rates than Grand Rapids.
Nonetheless, fire departments and community leaders pay attention to their ISO ratings.
Grandville Mayor James Buck recently urged citizens to call their insurance agents after ISO upgraded the city's classification from a 5 to a 4.
Fire Chief Mike May said Grandville earned the new rating, effective July 1, because of improved dispatch and communication, training documentation, automatic aid agreements with Wyoming and a strong water supply.
"Always ask about discounts," said Lori Conarton, communications director for the Insurance Institute of Michigan.
Many insurers offer discounts for nonsmokers, newer homes, homes with sprinkler systems and hard-wired smoke detectors, Conarton said. Rates also can vary based on the amount and type of coverage and the level of deductibles.
"It's very competitive here in Michigan," Conarton said. "We have hundreds of companies that operate here and each one operates a little differently, based on their own loss experiences."
---
Firefighters Feel the Squeeze of Shrinking Budgets
In small and large cities alike, firefighters have gone from heroes to budget bait.
BY: Jonathan Walters | January 2011 Governing
As a matter of political gospel -- and survival -- firefighters are sacrosanct. No matter the depths of a municipality's budget crisis, neither the firefighters' ranks, pay nor benefits are touchable. There are no reductions in force for firefighters. And yet, in cities all across the country, that's exactly what has been happening. The men and women in red are becoming as vulnerable to budget cuts as other municipal employees.
The new landscape has clearly been shaped by the brutal fiscal conditions in localities. In an era of such severe economic uncertainty, high-level municipal officials -- elected and otherwise -- have not been shy about portraying firefighters as a group that has vacuumed up more than its fair share of municipal resources -- whether it's for salaries, equipment and firehouses, or for some of the most generous retirement packages offered by local governments today.
But other factors have contributed to the new view, and one is a question of efficacy. There's a growing discussion about whether -- in a world with fewer fires and more emergency medical-related incidents and automobile accidents -- firefighters are deploying resources to maximum effect.
The Cost-Efficiency of Firefighters
Right now, the cost of paying a firefighter is foremost on city officials' minds. Take San Jose, Calif. Over the past decade, the cost of firefighter wages and benefits in the big California city has increased 100 percent, while city revenues have only risen by 20 percent, according to Michelle McGurk, a spokeswoman for the mayor's office. The average firefighter, she says, now costs the city more than $180,000 per year. Moreover, the highest-paid employees in San Jose aren't high-level city managers -- or even the city manager -- but upper-level members of the city fire service. Firefighters with 30 years of service can retire as early as age 50, with 90 percent of their salary.
That was just the beginning of the tough line that the San Jose mayor's office took when it handed out pink slips to 49 firefighters last fall, a decision that the city laid directly at the feet of the San Jose firefighter's union, Local 230. "Let me be very clear," McGurk says, "we didn't have to lay off firefighters. It was the decision of Local 230. They could have come through with concessions."
With an open contract -- the firefighter union's collective bargaining agreement expired in June 2009 -- the city asked Local 230, along with all other city unions with open contracts, to give back roughly 10 percent in wage and benefit concessions in a deal that would have saved the 49 firefighter positions. But Local 230 summarily rejected the idea, arguing that the city wasn't in as bad fiscal shape as it claimed and that firefighters were being asked to bear more than their fair share of cuts.
Painting firefighters as something of a pampered class -- well paid with retirement packages that would be the envy of anyone in either the private or public sectors -- would have been unheard of just a few years ago. Today, it's a widespread practice. Having spent a decade on a post-9/11 pedestal, the profession has been on the receiving end of more stringent scrutiny. Government officials and the public they represent appear to be taking a much harder look at exactly what they are buying when asked to spend bigger and bigger bucks on firefighters, firefighting equipment and emergency response.
In cities where firefighter layoffs haven't occurred, it has frequently been due to concessions wrung from unions -- despite unions' reputation as tough negotiators. But it's not that the unions have caved in easily to city demands. In Jacksonville, Fla., for instance, the firefighters' union at first rejected a contract calling for a two-year, 2 percent pay cut, and that for the first time ever required single firefighters with no dependents to contribute to their health insurance. In the face of rejection, the city promptly followed through on its threat to lay off 15 firefighters, a messy process that involved bumping another two dozen active firefighters to lower-level jobs.
The move was the culmination of several years of tough budgets for Jacksonville, says Misty Skipper, a city spokeswoman. In a city looking at escalating employee costs of 20 percent in the next five years, it means that every employee in government must sacrifice. It's part of a new reality. "In the past, our public safety sectors -- police and fire -- have essentially been held harmless," Skipper says. "This year we knew the gap couldn't be addressed just through nonpublic safety areas."
In the face of layoffs, the Jacksonville firefighters' union capitulated. Besides the 2 percent pay cut, single firefighters without dependents will now contribute 5 percent to their health-care coverage. While the 15 laid-off firefighters were reinstated with the recent ratification of the firefighters' contract, the city will still eliminate 15 fire and rescue positions through attrition.
"Obviously, a pay cut is never good, especially when you're already on the low end of the pay scale," says Randy Wyse, president of the Jacksonville Association of Firefighters. (Starting pay for fire and rescue personnel in Jacksonville is just more than $34,000, with additional pay available for medical training, firefighting-related educational advancement and longevity.) "But my members understood the economic times and responded."
What irritates Wyse about the firefighter cuts -- over and beyond the sacrifice his members are making -- is that in his view, the city is spending millions to keep its professional football team, the Jaguars, happy, and to develop local amenities like a $600,000 riverwalk. Given that, Wyse thinks the city has the cash for luxuries while it squeezes public safety. He is inclined to label the city's budget crisis "contrived."
Even if city resources may be somewhat constrained, he says, "there's no recession in demand for our services." The number of fire and emergency medical services (EMS) calls is increasing every year. Firefighters are, he says, "becoming the first line in someone's health care."
---
Fire Departments Around the Country Feel Budget Restrictions
If Jacksonville -- a consolidated city/county government experiencing less budget pain than most large municipalities -- is forcing cuts to fire and rescue, it's easy to predict what's going on in the rest of the country. The litany of cuts, compromises, give backs and service reductions is astonishing.
In the wake of losing 23 firefighter positions in the summer of 2010 -- an almost 25 percent reduction in manpower -- Lowell, Mass., is now counting heavily on mutual aid from surrounding towns for fire suppression services. Firefighters in Muskegon, Mich., ratified a three-year contract that allows the use of more part-time firefighters. In Baltimore, firefighters were given the option of taking five to eight furlough days or risk losing 100 positions. In Elgin, Ill., a Chicago suburb, firefighters agreed to a "no raise, no layoff" contract for 2011 that also reduced its minimum staffing level from 36 to 34, saving the city a reported $750,000 a year.
In Newark, N.J., firefighters joined in a court challenge at the end of last year to contest a city budget that called for laying off hundreds of municipal employees, including two dozen firefighters. San Diego instituted a "rolling brownout" system, whereby certain firehouses are temporarily closed -- an initiative that takes more than one-tenth of the city's fire and rescue complement off the street each day, saving the city nearly $12 million per year. Meanwhile, New York City Mayor Michael Bloomberg recently unveiled a plan to significantly reduce municipal manpower -- a plan that includes closing some fire stations at night. He is also embracing a proposal by the New York Fire Department to charge motorists up to $490 to respond to accidents and car fires.
"It's one of the most challenging times I've ever seen," says Tom Wieczorek, former city manager for Ionia, Mich., and now director of the International City/County Management Association (ICMA) Center for Public Safety Management. In the past, police and fire support staff might have gotten cut, Wieczorek says, but usually front-line police and fire were kept whole. "We're now seeing communities that have been cutting budgets for the past eight years," he says, "but you can only cut parks and recreation so much." Given that 40 to 80 percent of municipal budgets go to public safety, it was inevitable that cuts would eventually hit uniformed services.
One of the big questions right now is whether the fire service is actually learning anything amidst the constant threat of cuts, especially about smarter ways to deploy resources in an era of shrinking budgets and departments. While police departments, especially in larger cities, have embraced a more sophisticated and data-driven approach to the work they do -- allowing them to maintain relatively high performance levels -- there's been less willingness on the fire service's part to embrace data as a way to revamp how fire suppression, EMS and other calls are handled.
For the most part, firefighting is still based on geographically distributed, fixed stations staffed by a set number of personnel who stand by and wait to be dispatched when needed. For the fire service to continue to perform in these leaner times, Wieczorek says, it is now going to have to actively embrace change -- and that's not something that comes easily to the fire service. "The old saying in the fire service," Wieczorek says, "is '100 years of tradition unimpeded by progress.'"
One of the most significant and widely recognized changes in the fire and rescue service is that on average, most calls to fire departments now are for medical emergencies and not fires -- running about 80 percent EMS to 20 percent fire in most jurisdictions where the fire service handles both. At the same time, most calls are either false alarms or not particularly serious. Yet too few fire departments have adapted very well to these realities. For example, San Jose still sends an attack pumper with a full complement of four firefighters to all emergency medical calls.
Tying up four firefighters and a rig for what usually winds up being minor medical emergencies doesn't make any sense, says Bruce Hoover, chief of the Fargo Fire Department in North Dakota. Fargo's protocols used to mirror San Jose's exactly. But now Fargo fire trucks only roll if "there's bleeding, breathing complications or trauma," Hoover says. "We now only respond for true medical emergencies, and that's cut our run count back by 1,000 a year, and has kept apparatus and manpower in place for real emergencies."
But asking tough questions about manpower and deployment is difficult for many municipal officials who don't feel confident tangling with the community's best and bravest. A way to do that, however, without going toe-to-toe with the fire service, Wieczorek says, is simply to ask departments for solid, up-to-date data on demand, along with what measurable results a city is getting for its fire service dollars.
What most municipalities will find when they start to ask good questions about budgets, deployment and service demands is that there aren't many answers to those questions. "We are routinely called into communities to look at manpower and deployment," Wieczorek says. "We find across the board in small and large jurisdictions that data is either nonexistent or totally wrong."
What drives firefighting in the U.S., for the most part, is long-standing practice, not good, current information on what's actually happening on the ground, including number of calls, response times, seriousness of the incident, geographical distribution and time of day, all measured in relation to the geometry of fire service manpower, equipment and deployment.
For example, in one jurisdiction that asked the ICMA to come in and do a thorough analysis of demand, resources and deployment, the ICMA team looked at the busiest five minutes the fire department had in a year. What did the team find? Even at its busiest moment of the year, the city still had seven idle units standing by ready to respond, with 28 available firefighters. Those are just the sorts of analyses -- in combination with the current budget crisis -- that have emboldened policymakers and budget writers to start asking tougher questions about what fire departments really need and how they do business -- and asking them to either hold the line on budgets or cut back.
Looking at both budgets and at more creative and data-driven ways to handle staffing and deployment are key. "Don't get caught up in the hysteria trap of believing that if you pursue things like brownouts and budget cuts that children are going to die and senior citizens will burn up," Wieczorek says. "That might happen, but only if we keep doing business in the same old ways."
Public Safety By Appointment
Late 2008, as the economic fantasy bubble burst, it became apparent that government revenues and the municipal budgeting process would be poorly suited for surviving the impending recession. Municipalities would be cutting services. Firefighter Close Calls decided to document this impact on municipal fire protection as it became evident that the magnitude of the cuts would rival the cuts of earlier generations and foreshadow a revolutionary change in public perception of how the fire service does business.
In the ensuing months, the municipal fire service has seen sizable decreases that can be generally categorized into three distinct areas. Changes have been made in compensation and benefit packages, reductions in staffing have been implemented, and stations and fire fighting units have been discontinued.
Changes in compensation packages have affected not only the fire service but all public sector employees and average working tax payers as well. Significantly, a large percentage of the fire service has secured their compensation and benefits by contractual agreements. In many cases, municipalities did not foresee the reduction of income and were trapped by long term contracts. Municipalities have frequently chosen to involve union labor to offer changes in benefits by forgoing or deferring general wage increases, expanding health insurance co-payments, rescinding promotional opportunities and eliminating overtime. Often these changes have been accepted as bitter-sweet – bitter as concessions of hard won benefits, and sweet for the saving of younger members livelihoods.
Deeper cuts took the form of employee layoffs. Staffing reductions have appeared in several ways. Municipalities froze hiring and overtime, effectively limiting shift staffing to the number of employees that showed up to work each shift. Public perceptions of sick leave abuse lead to official and media audits of work attendance. Employee layoffs have resulted in unit staffing reductions. Larger fire departments have managed to compensate by altering dispatch policies to send more units. Smaller departments that do not have broader resources or automatic aid agreements are simply deploying fewer staff. "Do more with less" and "Do the best you can with what you have" attitudes have capitalized on the fire service's traditional "Can Do" culture.
The third method of cutting services has been to close units and stations. A common approach has been "brownouts." These are characterized as temporary eliminations of services to specific neighborhoods or areas, while simultaneously leaving others intact. Some municipalities, in a perception of fairness, have eliminated and restored services from one neighborhood to another, on a rotational basis. Permanent reductions of services have occurred where units and stations have been closed outright. Yet, the job is still getting done.
Which fire departments are getting cut most severely and which ones are remaining intact? Significantly, and perhaps obviously, these issues are affecting the career fire service. Very little in the way of reductions and cuts have been reported from the volunteer fire service. It is the cost of compensation that is driving reductions. In the time immediately following the September 11 murders, the fire service enjoyed a period of approval, adulation and support. The perception of heroes among working people was strong. As the economic recession has swelled the unemployment rate above 10%, public perception has altered. The apparent security and benefits of fire service positions are no longer understood. The frequently used justification that "people will die", is no longer threatening. Municipal leaders have even justified publishing brownout schedules in the belief that advance publicity will encourage people to be more careful.
"Response times will increase." This statement no longer impresses the average citizen. While the survivability of a person in cardiac arrest is directly documented to the time that CPR is initiated, the time for a fire to double in size has been reported variously from 10 seconds to 10 minutes. To the individual who calls 911, response time is always from too long to forever, regardless of how long it actually is. Station and unit closures increasing response times are less effective arguments when the public remembers units being closed to increase staffing on others, without protest from the fire service.
Police agencies can document crime rates increasing when fewer officers are deployed. Sanitation services can document increased vermin populations when garbage is allowed to accumulate. School teachers can document declines in student grades when classroom sizes increase, but there is no correlation between the number of fires and how many stations are open. People will march and demonstrate when a fire house closes but seldom will they notice when a fire prevention office is eliminated. The work of the fire service has changed. There are fewer fires even as the population has exploded. Hazardous conditions and medical emergencies have grown, but the fire service still talks about fires. The fire service seldom demonstrates its abilities in front of huge crowds at big fires as often as it shows them to a few people at a time at motor vehicle crashes and medical emergencies.
Stand alone; isolated career municipalities have taken the greatest hits. City managers have made reductions based on perceptions of priorities and concepts of fairness to citizens and employees. Accusations of politics, retribution, and malice have been made. Departments lacking adequate staffing to begin with, are most easily cut, as the inadequacy is already present and only becomes more acute. Largely untouched are departments that serve regions or that participate in extensive automatic aid. Their efficiencies of scale have already been proven. In Fire & EMS departments, reductions are being made primarily on the fire side. EMS in general is not being cut. Some departments are shifting suppression personnel to EMS duties.
Physical resources are essentially unchanged. New stations continue to be constructed and major apparatus are still being purchased. In fact, some municipalities are stimulating their local economies by advancing their capital construction and station renovation projects. As the economy continues towards the bursting of the next bubble, the fire service needs to review the methods by which it expresses the relationship between the value of its services and the preservation of the community's vital interests. It must extensively document the economic impact of its activities against the necessary expenses to achieve community goals. Citizen consumers must be continually educated of the services and benefits provided by the fire service for their hard earned taxed income.
Priorities ???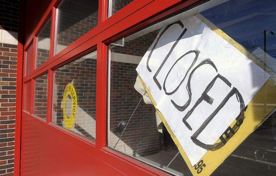 The Definition
Brownout = Rotating shift by shift closures
The Principle
The IAFF has taken the position that it's best to keep at least four firefighters on each apparatus and, if reductions are absolutely necessary, it's better to idle an apparatus or even temporarily close the station.  02/04/2010 Firehouse.com
The Playbook
Another I-Team discovers firefighters make overtime: Contract negotiating time when money is very tight and suddenly everyone realizes the fire department is way over its overtime budget. This has happened in jurisdiction after jurisdiction across the country since the economy went south. We have run a bunch of stories that fit the pattern. The script goes like this. Political leaders say the OT is busting their budgets and often someone leaks the details to a newspaper or TV station. The news media runs the story showing how firefighters are all the top money makers in town. Someone claims there is something fishy going on. The IAFF points out if you hire firefighters and fill all the vacant positions you can then spend less on overtime. Then there is usually the call to lower minimum staffing requirements. Some of that is now going on in a town near you…  Thanks to Dave Statter, Statter911.com
SAFER Grant
"Staffing For Adequate Fire and Emergency Response" Grant
Left Coast to Right Coast ! ! !

Since we have started this Staffing page, we have seen:
 Round 1 (FY2008/2009) – Concessions to avoid cuts,
 Round 2 (FY2009/2010) – Concessions and Brownouts,
 Round 3 (FY2010/2011) – Nothing left to concede, more brownouts, and services cuts
Round 4 (FY2011/2012) -  Nothing left to concede, more brownouts, more services cuts,consolidations and mergers
Round 5 (FY2012/2013) - Nothing left to concede, more brownouts, more services cuts, consolidations, mergers, and regionalization
Round 6 (FY2013/2014) - SAFER grants are expiring
What's Next? – Stay tuned and keep an eye on Canada
Please take a look at the information for your area or department and take a moment to bring us up to date for the next Report. [email protected]
Multi-year Summary Report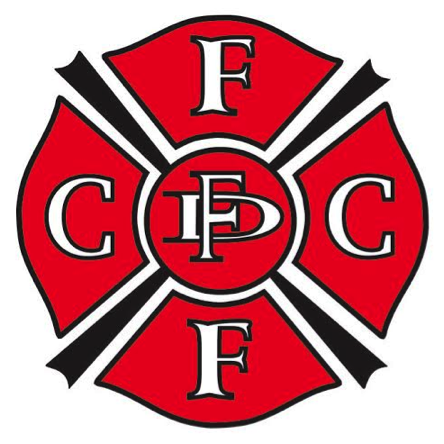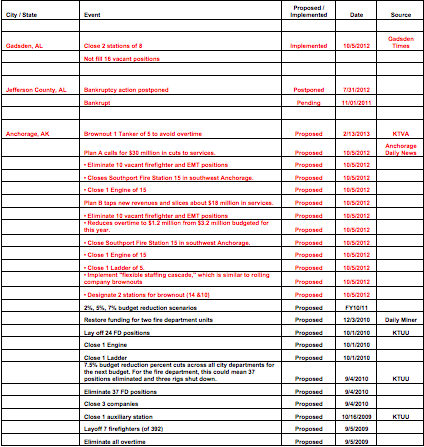 What is happening?
As a result of the budgetary crisis that is following the financial Crash of 2008, municipalities are reducing expenditures.  Budget administrators are deciding how much and what kind of fire protection their municipalities can financially afford.  Many are determining that they cannot afford what they presently have.
WE, at FireFighterCloseCalls.com know that a PROPERLY FUNDED AND STAFFED FIRE DEPARTMENT is like an INSURANCE POLICY....YOU ONLY WORRY ABOUT IT WHEN YOU NEED IT....and to find out you are "not covered" can be devastating.....
While it is EASY for elected officials, Mayors and City Manager-Types to cut fire service funding, so often their short sighted-ness leads to disaster...for the taxpayers AND for the FIREFIGHTERS expected to operate "as usual" ....but WITHOUT the required resources. IS IS PREDICATBLE that a fire department with less funding, staffing and related resources WILL NOT arrive quicker, the fire WILL spread faster and FIREFIGHTERS abilities to effectively slow or stop the fire...and perform the needed SEARCHES and RESCUES will be measurably and negatively IMPACTED. After all, a TAXPAYER may only need THEIR FD ONCE....just like filing an INSURANCE CLAIM. So what will happen when they dial 9-1-1? Just like fling that severely cut insurance claim, they will sadly find out that they DO NOT have the coverage that they now IMMEDIATELY NEED.
If it is PREDICTABLE....It is PREVENTABLE.
READERS: Please also take time to GOOGLE the specific FD listed so you can personally contact-or track-what the latest is in relation to the specific FD's cuts and reductions.
What are we doing? 
FFCC, from your input, is recording the staffing and resource reductions caused by these monetary decisions.
Why?
To share news of how the financial decisions are affecting the fire service nation wide.  Impacts include contractual, operational, staffing, deployment, and compensation issues.
FFCC is documenting the reductions so that "before and after" comparisons can be made.  Seldom has any city ever analyzed the consequences of downsizing long term in an objective manner.  Staffing studies show up every ten years or so, but we never see a post downsizing study comparison.  Sometimes we might see a response time review but never any life or property loss analysis.  Companies get closed, staffing gets cut, and the city just accepts a different (lower) level of service.  Public memory is much too short.  Why can we talk about the potential effects of cuts before, but never document them after?
The "crisis" actually started in FY 07/08.  The cuts that we are seeing now are adjustments for FY 08/09, and there are hundreds of them.  The real cuts will come during FY 09/10 as cities see four quarters of diminished incomes.
What can we do to avoid the cuts?
Document, document, document.  Record the statistics for at least the last 12 months prior to any cuts so that comparisons can be made of the effects next year and later.  Vital statistics such as response times, losses, ISO ratings, injuries, retirement rates.  You can't prove what the effect of any cut was unless you define what the service level was before.  You will not be able to ever restore what was cut without proving the consequences of the cut.
Why tell the world on Firefighter Close Calls?
What happens to one department, can and will happen to other departments, sooner or later.  By submitting your department's cuts, we can watch, record and learn, so that we can educate the budgetary people sooner, with documented facts.  Tell us what is happening in your area and update any changes.  [email protected]