Firefighters and paramedics in Dallas were dodging fireworks Wednesday night, as many Independence Day revelers illuminated the skyline illegally.
In Dallas, shooting off fireworks within city limits is illegal. If caught, you could pay a $2,000 fine.
According to Dallas Fire-Rescue Spokesperson Jason Evans, two engines had to be taken out of service after they were hit with fireworks.
One of those engines, Engine 18, is quite possibly the busiest engine in the city.
A firefighter riding in the back of Engine 18 even captured the moment the truck was hit on his cell phone.
According to Captain Jim McDade, the President of the Dallas Fire Fighter's Association, Engine 18 was headed to a medical call near an East Dallas apartment complex on Munger when an artillery shell was thrown underneath the truck.
In the video, many people can be seen shooting off fireworks nearby.
You then see a firework illuminate near the front of the engine, hear an explosion, and then smoke can be seen coming from the undercarriage.
A firefighter in the truck then says, "We just got hit."
McDade says that the firework blew the oil pan off the engine. Evans confirmed that it's not yet back in service.
"It's absolutely senseless," McDade said. "People are basically assaulting us and the fire engine."
Independence Day is one of the busiest days for Dallas Fire-Rescue, and McDade said it's getting more dangerous each year.
He said that firefighters have had to dodge fireworks before, but can't remember the last time things got this out of hand. "It seems to get worse every year," McDade said. "It's turned into a safety issue at this point."
Another engine, Engine 24, was taken out of service after an artillery shell somehow got caught on its windshield, cracking the front driver's side window. "It was basically on the windshield, and the force of it blew up and shattered it," McDade said.
Evans said that Engine 24 had to be pulled out, but was fixed and is now back in service again.
For McDade, it doesn't make sense. Resources go out the window for no reason. "The citizens get out of control," he said.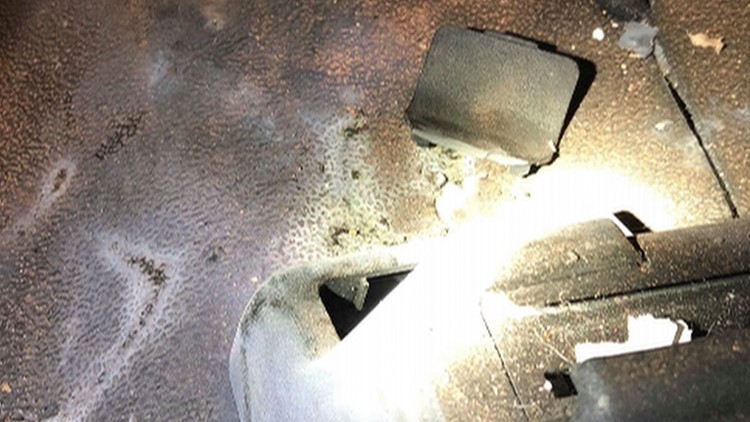 WFAA
Another incident involved DFR Ambulance 24. McDade shared pictures of its charred floorboards and said that another reveler tossed an artillery shell inside the cab when the window was rolled down.
He said that a paramedic was flagged down by someone for help, and when he rolled down the window the firework was tossed in by someone else.
"That could have been a serious injury," McDade said. "While talking to a citizen, someone threw a firework in the cab and our paramedic brushed it off his leg and into the floorboards."
Thankfully, no first responders were seriously injured. Evans also said that the monetary damage to the trucks was minimal.
According to McDade, the incident with Engine 24 and Rescue 24 happened in the South Dallas area—but couldn't give exact locations.
He added that these incidents should stress increased police escorts for DFR during the Fourth of July. Many engines are already escorted at night during the holiday, but not every truck is guaranteed one.
"It's only a matter of time before someone gets seriously injured," McDade said.
But as we've reported, DPD is dealing with a staffing shortage.
Mike Mata, the President of the Dallas Police Officer's Association, said in a statement, "This is just another example of the inability of the Dallas Police Department to do our job effectively and safely."
It continues saying, "And because of the lack of needed manpower, the police department is failing to protect our first responders."
McDade said better enforcement is another solution.
According to Evans, only 9 fireworks citations were handed out during July 4th enforcement.
Dallas Police also sent a statement to WFAA that reads, "The City of Dallas is aware of the concerns expressed by Dallas Fire & Rescue. The police department will work diligently with DFR on any patrolling issues to help ensure city workers are as safe as possible while performing their duties."
It continues saying, "In addition, we are unaware of any arrests being made relating to fireworks being shot at DFR."