MOSES LAKE, Wash. — The wife of a Moses Lake firefighter who passed away over Labor Day weekend is remembering her late husband as a man who always gave back to others.
Andrew Lee Deering's wife, Tasiya, said he died by suicide while the family was vacationing at Rockaway Beach in Oregon. She told KREM that her husband struggled with post-traumatic stress disorder, adding that "he gave everything to his job."
Deering, 43, passed away at Legacy Emmanuel Hospital in Portland, Oregon, on Sept. 10, according to his obituary. He was born in Clarkston, Washington, and graduated from Moses Lake High School in 1995.
Tasiya, who serves as administrative coordinator for the Moses Lake Fire Department, married Andrew in Deer Park on Sept. 8, 2018. He had two daughters, Emma and Lauren, and a stepdaughter named Teagan.
Andrew also became a grandfather to Naiyah Lee Patino in 2019, his obituary said.
"He loved his family, he loved his friends, he loved his community," Tasiya said.
Sabrina Persinger, a friend who organized a GoFundMe for Deering's family said he was subjected to "severe degrees of trauma" in his work as a first responder, including witnessing two children and their father lose their lives in a fire.
In the wake of her husband's death, Tasiya is encouraging people to be open in talking about mental illness — especially first responders. She also wants to promote awareness about mental health issues.
Andrew joined the Moses Lake Fire Department as a volunteer before he was offered a full-time position five years later, according to his obituary. During his 20-year service to the fire department, Andrew was "very passionate" about his job, Tasiya said.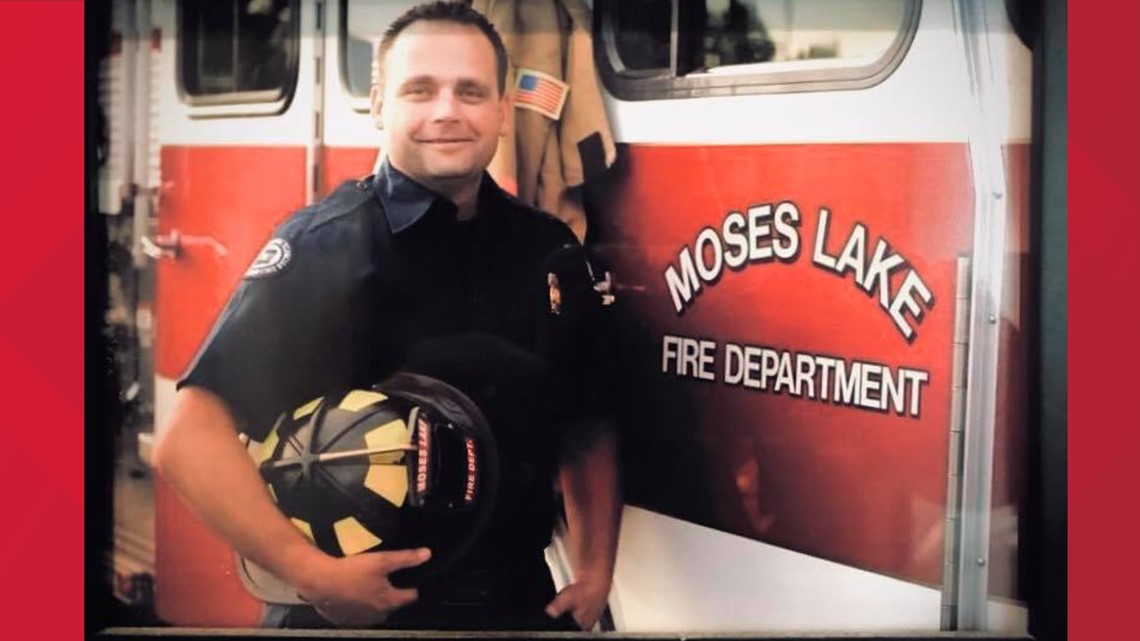 His selfless nature was even apparent in death. Andrew's organs were donated and helped four different families, Tasiya said.
Many community members reached out to Tasiya after her husband's death to offer condolences and pay respects, she said.
"One thing that came out for everybody was that he had a heart of gold. He was the best guy," Tasiya said.
Deering's longtime best friend Ryan Persinger said Andrew stood out for his work ethic and his devotion to others.
"Probably one of the nicest guys you'll ever meet. Real soft-spoken, quiet guy. A guy that would help everybody out," he said.
His wife, Sabrina, agreed.
"He was a great person. He loved deeply. He cared for others," she said. "He struggled with his emotions inside but he still loved everybody around him and there's nothing that he would not have done for our family."
Tasiya also shared with KREM the eulogy that she gave for her husband:
I'd like to thank you all for coming out today to support my husband and our family. Since the day of his injuries, the community has stood behind us and lifted us up both in prayer and in deed. We are truly humbled by the outpouring of support and love, and there will never be enough or even the right words to express our gratitude.
Andrew was a dedicated and loyal family man. A great friend. Selfless. And by all accounts from the messages I've received from various community members, had the biggest heart of gold. He touched so many lives throughout this community and beyond.
When I first met Andrew, he was too shy to even speak a word to me. I think prior to the beginning of our relationship we had maybe spoken two words to one another, even while working for the same department. His soft heart and kindness drew me in though. After I had been dating Andrew for a bit, I introduced him to my daughter Teagan. Seeing his interactions with her was what solidified his place in my heart. A man who wouldn't think twice about becoming daddy to another man's child. Every single year Andrew took Teagan to the daddy daughter dances and was always so proud to be her date for the evening. Much like he was with Teagan, he was equally as involved in his own girl's lives. When Emma had played soccer, Andrew tried not to miss a practice or game. His time spent on the Oregon Coast with Lauren were some of his favorite memories. Times where all the girls and granddaughter were at our house goofing around with dad were some of my favorite memories. Andrew had the most authentic laugh and smile, both were contagious. To see the joy on his face when surrounded by all his girls was a true blessing.
Andrew and I shared a love for adventure and travel. Some of our first dates were spent hiking at Lake Wenatchee and Silver Falls. He always pushed me to do things outside my comfort zone when out in nature. Much in the same way, I always pushed him to try new foods and venture off to foreign places. Our honeymoon was spent in Costa Rica which was a huge culture shock for Andrew. Apparently Costa Rica isn't the best place for a plain cheeseburger with fries – who knew?
He was a man of simple taste, but had the absolute biggest heart, always making sure the girls and I were happy and taken care of. His selflessness stretched beyond our relationship though. Andrew had been with the fire department for many years and was dedicated to serving the community and helping others. I always admired his dedication and hard work. Day in and out, he would serve both the agriculture community and citizens in need with the department and still would come home and care for us. There will forever be a huge gaping
hole in my heart with him gone.
After a rotation at the fire house, often Andrew would come home exhausted albeit excited to see his family. Even working those long hours he would still struggle to sleep at night. Some calls had weighed heavily on him and although I would try to get him to open up and let me into his heart and head, he struggled. There were calls that forever tormented his mind and weighed heavily in those wee hours of the night. I know many of you here today that are in the fire service have experienced this at some point in your career.
May I ask that you please raise your hand for me if you know someone that has been affected by mental illness. Now you don't have to say it out loud, but ask yourself have you been affected by mental illness? We're all gathered here today because of Andrew's mental health deterioration.
Andrew committed suicide. He didn't fall from a balcony. He wasn't in a climbing accident. He hadn't been hit by a car while rendering aid. He ended his life to end the pain and torture he had been suffering through for years. He jumped over the third floor balcony.
Do you feel that? The air in this space has changed. Why? Because no one is comfortable discussing this topic. No one. We'd rather avert our eyes and avoid the uncomfortable elephant in the room.
This time it was my Andrew. Next time, it could be your "Andrew." I've been involved in the fire service for over 7 years now, and have watched my coworkers come back from terrible calls and mask pain behind smiles and laughter. Making crude jokes is often a coping mechanism.
I know Andrew smiled and tried to push away the painful images, compartmentalizing and hiding those faces in the recesses of his brain. When the lights were off and he was alone with his thoughts, he wasn't able to restrain them. Alcohol was used as a numbing agent, but that overflowing box where he stored all those painful memories would often burst open and those demons would make their way out. I always knew it wasn't Andrew when that person came out, however dark and repressed thoughts will always make their way out no matter how hard we try to run from them or how little we choose to talk about them. 
I tried to get Andrew help. He was set to leave for the International Association of Firefighter's Center of Excellence on March 26, 2020. The center specialized in PTSD related substance abuse and mental health aguish from the jobs our first responders perform everyday. Unfortunately, COVID-19 cases in Washington state had exploded and he received a call on March 13th that the center had cancelled all participants coming from Washington and California. Andrew was devastated, and it was at this point he stopped attending counseling and stopped most of his medications. It was almost as if he'd given up on trying to fight. His fight was done in silence though. The stigma of having these issues really isolated him and kept these issues locked inside his mind.
A quick story from the last moments of Andrew's life. Andrew had chosen to become an organ donor, a lasting legacy of his desire to help others. Once the decision was made to pull life support, we had to take Andrew down to the operating room to prepare to pull his breathing tube. As Andrew's sister and I walked to the operating room to sit with him until he passed. As we were walking down the hall toward the OR, my phone chimed. Looking down, a notification scrolled across my phone saying that that very day, September 10, 2020 was National Suicide Prevention Day. Today, as we celebrate the life of my beloved husband and our girls amazing father, people of the Jewish faith are celebrating Rosh Hashana. The significance being that it is the start of the new year, a new beginning. Both were the signs that I needed to tell people about all sides of Andrew, especially the parts that little knew of.
This has to stop, there needs to be mental shift, a change in our culture. It needs to change, support has to come and be accepted by all. If today I can open the eyes of one spouse or first responder, then my Andrew's death will be given meaning. We need to have these tough conversations, no matter how embarrassed or macho you may be. We need to stop criticizing those in need and instead offer an unfettered support to all those that rush in at the worst possible moments.
To ask for help is a sign of strength, not a sign of weakness. We need to do more locally. Departments need to shine a spotlight on this dark topic and start to make it less taboo. Conversations need to begin. Hearts and minds need to open up to help others in their moments of need.
The silence needs to stop.
Now I don't want to end on a sad note – it's not what Andrew would have wanted. When he could get outside his mind for a bit, Andrew was an incredibly fun loving and goofy person. I don't want his legacy to be his loss, but what he gave in his life. I've heard stories from members of the public about how he brought comfort on scene under the worst circumstances. His friends all called on him in times of need. And to his family, he was our hero, father, husband, and grandpa. The message here today should only help to continue his amazing legacy and contributions to all those lives had he has touched and beyond. Thank you. 
IAFF Local 1258 first announced Andrew's passing on Sept. 11, asking community members to keep him and his family in their prayers.
Law enforcement agencies in Moses Lake also paid their respects to Deering and shared their condolences for his family.
"Our thoughts and prayers go out to the Deering family and the Moses Lake Fire Department.  Andrew was a loving husband and dedicated firefighter and will be greatly missed by all that knew him," the Moses Lake Police Department wrote on Facebook.
The Grant County Sheriff's Office asked people to join the agency in honoring Deering's memory by "holding his colleagues and family in your thoughts."
The GoFundMe for Deering's family has raised more than $1,300 in one day. Its goal is $50,000 to help alleviate some of the family's financial burdens.
If you are in crisis, please call the National Suicide Prevention Lifeline at 1-800-273-TALK (8255) or contact the Crisis Text Line by texting TALK to 741741.